For and From Kith and Kin - 21 Gift Ideas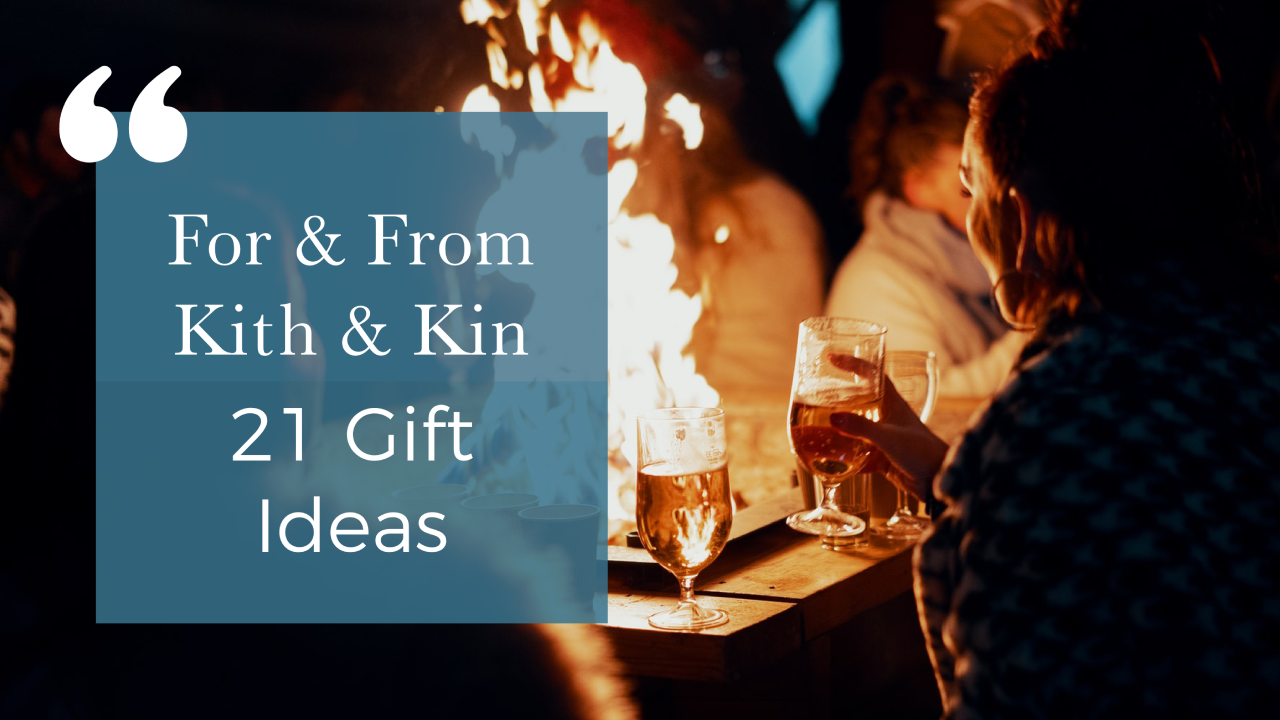 Our founder Tim shares his 21 gift suggestions for and from kith and kin.
__
Adventurous Ink is as much about the club as the books.
So, with a nod to our sense of kin and connection, I'm going to share some suggestions for outdoorsy gifts for your kinfolk from my circle of makers, brands and creatives.
However, first a quick word about Adventurous Ink Gift Subscriptions, which are of course ideal for every outdoor lover, especially those who are hard to buy for.
By giving these it's dead simple, I do all the tricky choosing for you; all you have to do is decide whether to send a book per month for 4, 6 or 12 months.

All gift orders placed before Christmas arrive gift wrapped, perfect for sending direct to the lucky recipient without spoiling the surprise, and can include a personal note like this one which really moved me recently:

Cameron is super lucky to have parents so passionate about his dreams.
Gift Guide
Right then, let's see what else we can suggest for Santa to stash under the tree.
Good Gear
You can't beat wrapping up a gift you're sure will prove pleasing, especially when you know it's been made with care and consideration.
1 - Upcycled dog coats
This first one might turn out to be a monstrous tease, as they currently have none in stock. But who wouldn't want an upcycled dog jacket made from premium outdoor brands?
Got an irredeemable old jacket yourself? Then you're in luck as Hundr will re-work it into the dog coat of your choice! Can they do it by Christmas? You'll have to ask them.
2 - Canvas campervan pockets
These canvas pockets make a great gift for any campervan owner. Made by Onwards Vehicles, founded by vanlife guru, Calum Creasey, who was the driving force behind The Rolling Home Journal.
You will need to be quick off the mark ordering though, there's a 3-4 week lead time, so don't hang about.
3 - Easy riders
Continuing the campervan theme... as the good folk at The Overland say, taking it easy never felt so responsible than in their unisex responsibly sourced, printed and dyed t-shirts.
Loads of other sustainable apparel too, aimed at the bikepacking and gravel biking community, but accessible to all adventurers.
4 - Handmade backpacks for real hikers
If your loved one prefers to carry their home around on their back, how about a proper trail hikers backpack handmade by Cumbria's Atom packs? You're probably too late to get a custom colourway for Christmas, but you should be fine choosing stock colours.
Neat little packs and pouches from offcuts too.
5 - Superb caps, packs, socks and shackets
You may have noticed I have a thing for caps; I'm almost never spotted outdoors without one. For me, it all started with a Level Collective waxed panel cap. If only I looked this cool in mine.
They also do great packs, socks and shackets.
6 - Highly aware activewear
Anthony Oram was an obvious choice to design the logo for my first business, Gather Outdoors, as he also had his own outdoor brand Auxiliary Outdoor Products.
It's been bubbling quietly on Ant's backburner for a while, but he's turned up the heat recently. The activewear products he's come up with have really caught my eye, not just for the high proportion of recycled materials.
7 - Hot drinks, cool hands
I am a firm fan of enamel mugs, but they can be a bit too hot to handle. So I love these mug holders made from offcuts by Moorswood, makers of fine picnic rugs and other little luxuries to embellish your outdoor environs.
Publications
I know. I sell books; why would I recommend other books and journals?! Well, there are some great publications out there that don't fit into the subscription.
8 - Coffee table adventures
These hefty Gestalten guides make the ideal festive gift; there is nothing like unwrapping one on Christmas morning and imagining all the adventures you might have. It's almost as good as actually doing them!
Depending upon favoured modes of conveyance, I'd suggest either Wanderlust Alps, a series of multi-day Alpine hut hikes curated by the experienced travel writer Alex Roddie.
Or, perhaps Bikepacking which draws on the expertise of Pannier.cc founder Stefan Amato, with a litle help from my pal Tom, to expand the possibilities of this vibrant two-wheeled travelling philosophy.
9 - Inspiring adventurous offspring
Cameron is probably a little old for this now, but if you're looking for something to inspire your little ones, Alastair Humphreys' colourful illustrated guide to adventurers past would be top of my list.
I might even put it on mine now that I think of it!
Skills and Experiences
When your loved one has everything they need, it can be hard to find something that will really amaze and excite. Why not get them something to do?
10 - Learn to draw wildlife
I can barely even believe this is a thing! Imagine the scene on Christmas morning when you hand over an invitation to a wildlife drawing class featuring actual arctic foxes, beavers, seals or eagles?!
11 - Discover the wild with your camera
Earlier this year, subscriber Dan Ransley sent me a superbly photographed book about the landscape and ecology of the Lizard peninsula. If drawing is too great a creative stretch, how about learning to shoot with Dan?
His is an entirely bespoke arrangement for a maximum of 3 people. Not just a photography workshop, think of it more as learning about the wild through your camera lens.
12 - Learn to be a travel writer
I have learnt so much about writing from our authors this year. My favourite being "Never describe a village as nestled in a valley", a cautionary warning about lazy descriptors from Gail Simmonds during our conversation about The Country of Larks.
If learning to be a travel writer sounds like a suitable gift, Gail used to teach this very course.
13 - Read more books on a Wildcation
If reading is likely to go down better than writing, Bernice and Huw, the founders of Little Menherion in Cornwall, have stocked their gorgeous handcrafted cabins with a wide selection of books, including a good number sourced via the Ink. What more do you need for a wild retreat?
14 - Sing with Nightingales
Here's another thing that I can barely believe exists, Singing with Nightingales, as recommended by my friend Cath from Outdoor People (who also sells good stuff).
Musician Sam Lee, sometime collaborator of Robert Macfarlane, and the Nest Collective host a series of intimate sessions in the woods of Sussex next spring. Yes, with nightingales. How's THAT for a unique gift?
Art, art and more art
Last but definately not least, I always find that artworks make the ideal gift for the culturally included adventurer. Here are some talented artists I've worked with and admire:
15 - James Bywood
The very first issue of Adventurous Ink included a print by James Bywood. We met when my wife bought me a place on one of his screen-printing workshops, and we've kept in touch ever since.
I absolutely adore this latest range of Lake District prints.
16 - Handmade wall hangings
These were on my list last year, and I must have been a good boy, as you can't have failed to notice the 'Deep Roots' pennant in the background of our live conversations.
Andrew and Emma of Miscellaneous Adventures have always been an inspiration, good people to support.
17 - Lost Lochan
Here's another suggestion from my backdrop. You may have spotted Lost Lochan's painting of Glencoe during our live conversations? I love all Kate's work, they take me right back to the Highlands and Islands.
18 - Paper folded landscapes
This discovery was made via the wonderful Ernest Journal, who featured work of Peak District inspired Studio Skai, aka Joe Winstanley. I have never seen anything like these, art prints made from intricate folded paper models. Incredible.



Although the process is completely different, the outcome reminds me very much of the mountainscapes of Becky Gibson, aka Freeride Lines, another UK based illustrator with a passion for the peaks.
19 - Cycling in full colour
Next, a familiar name - you may recall Laurie King from last year's Brocken Spectre Art Exhibition. I've been busy with various things this year which has prevented a re-run, but if I had, Laurie would definately have been invited back to do another book inspired illustration. He's particularly good with bikes.
20 - Recycled surfite jewellery
It took me a while to work out exactly what they were when I first saw local lass Caroline Brogden's jewellery. It turns out her colourful rings, necklaces and earings are made from waste produced by Scottish sufboard shaper Jay Burnett. Amazing what you can make from rubbish isn't it?
21 - Drawing with data
I am absolutely blown away by the processes that Rebecca, aka Ploterre, uses to translate environmental data into her gorgeous prints. If you're seeking a gift for someone with an eye for beauty and a head for figures, you can stop searching now.
I hope you find something interesting in this lot? I've really enjoying reconnecting with folk and rediscovering some new gems too. I know I squeezed in some extra recommendations so in reality there were slightly more than 21 suggestions, and that's without even mentioning the always excellent Discover Cymru calendar (another backdrop staple).
I hope you have a fabulous festive buildup, it feels so full of possibility this year doesn't it?


Picture credits:
Banner fire by Ross Sneddon on Unsplash
Travel writer by Thought Catalog on Unsplash