The story of Kings of the Yukon - August 2021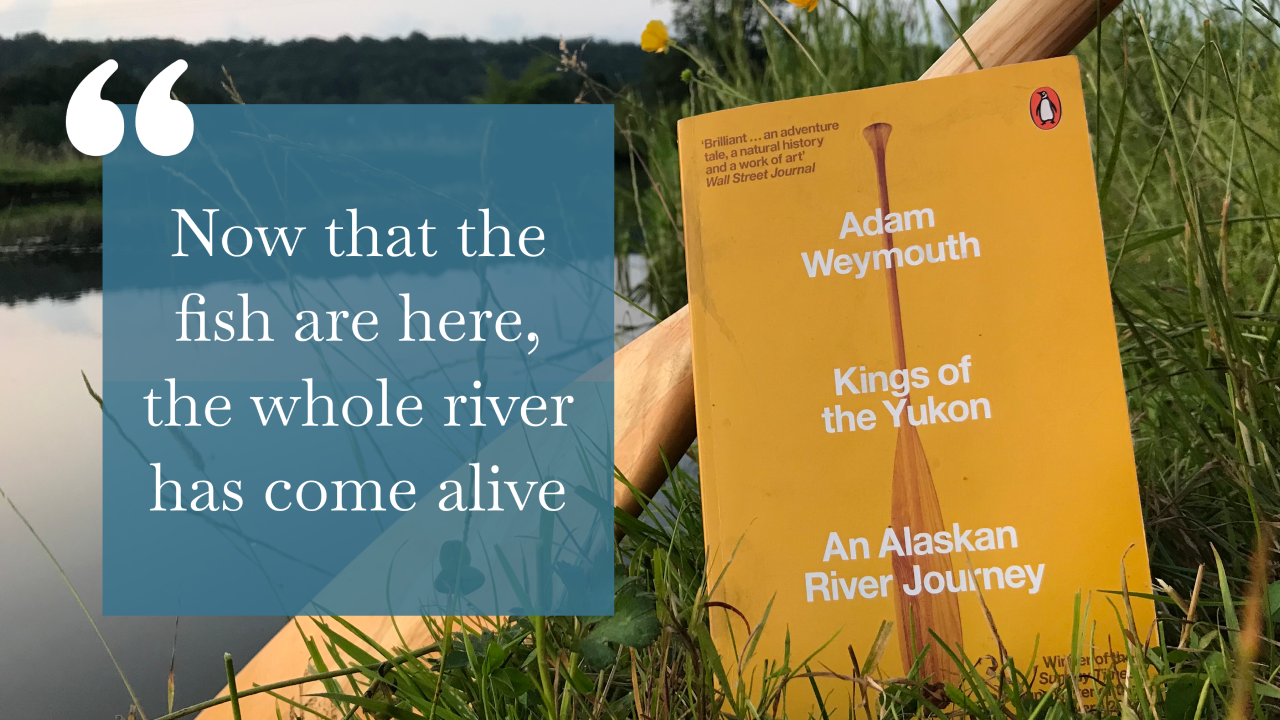 Our curator Tim shares how August's issue almost never was.

__
Struggling to paddle into the headwind which pressed through the cleft between Steeton and Ilkley Moors I shifted position, trying to trim the canoe as best I could. But my efforts were in vain and progress was sluggish.
March this year found me trying to enjoy the solitary birthday paddle that has become a tradition since acquiring a colourful, if cumbersome, canoe. A gift from an adventurous Aunt whose paddling days have passed.
This annual ritual has become one of the small ways in which I try to live more adventurously within the convivial confines of family life.
These adventures are all about the experience, not the endurance. So, wild camping half a mile from the road, or extending the school run to stroll through some lesser-visited woodlands, are all part of my slow approach to adventuring.
Ordinarily, paddling my big old Canadian canoe fits this ethos perfectly. But today was proving dispiriting.
In a low mood, I grumpily surveyed the distant sign steadily lurching into focus. I assumed it would be the usual angry enjoinder not to trespass on some local landowners hallowed turf.
You may, therefore, imagine my delight when it swam into clear view as an admonishment for canal users to "Slow Down" instead.
I was going so slow that I may as well stop.
So I did.
Mooring in a quiet woodland, I headed a short way uphill to a sheltered glade where I broke out my elevenses and the book I'd brought to read.
'Kings of the Yukon' had been recommended by an Instagram acquaintance, @samwises.
I was instantly drawn to the yin-yang harmony of an epic adventure with a thoughtful and reflective ethos. Unfortunately, the publishers didn't have sufficient stock to provide for all our subscribers. So it became a rare personal pleasure; a book I could enjoy just for myself.
I was so confident it would not feature, that I posted a rare picture of the book on my personal Instagram feed. Even on my own accounts, I hate to spoil the surprise of what books are upcoming for the couple of friends who are kind enough to subscribe.
But, afterwards, I reached out to the author Adam Weymouth all the same. He was clearly something of a talent. This, his first book, won both the Sunday Times Young Writer of the Year and the Lonely Planet Adventure Travel Book of the Year! There were bound to be other good reads swirling in its wake.
It was thus, via Adam, that I learned of an imminent reprint a couple of months back and bagged us a stash. And here it is now; our August feature.
Over summer, when most of us relish a brief respite from the daily demands of modern life, what better refuge than to slowly savour the wonders of the North American wilderness?
Through Adam's lovingly illustrated pen portraits we discover a host of engaging and entertaining characters, each possessed of their own connection with the King salmon and the local environment. Their stories reveal the impact its steady decline is having on those who rely on this richest of nature's bounties.
When it came time to read some select passages I returned to the Leeds-Liverpool. Thankfully, on this outing, blessed with calmer waters.
It was tricky enough paddling and reading; the added complication of a headwind would have rendered the feat impossible!
Now August has passed, you can find Kings of the Yukon amongst our
back issues
.