The Story of Three Stripes South - October 21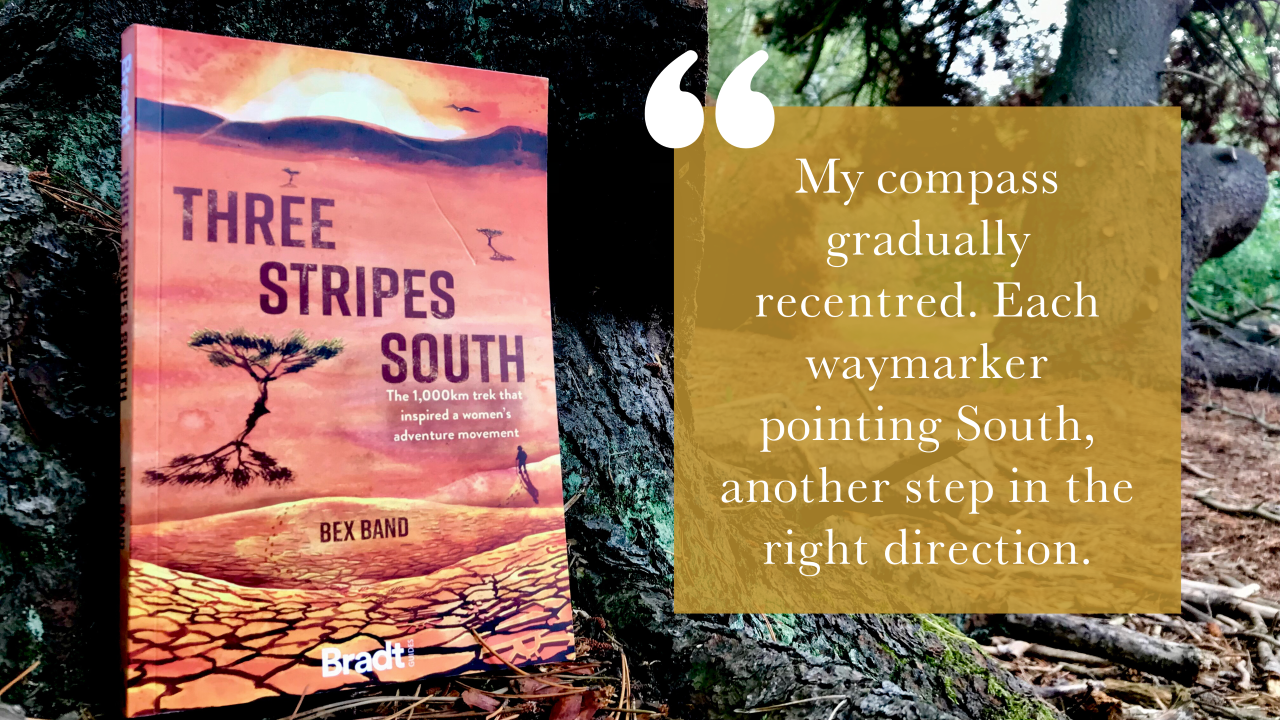 Inspirational and adventurer are overused adjectives, our curator Tim shares just why they are bang on for Bex Band.
__
Everyone has bad days. 
Even when you've built your life around the things you love, like reading books, enjoying adventures and meeting fascinating new folk, I can attest that blue-hued shadows can still seep into your day.
Recently, I found myself in such a deep funk, angrily pounding the streets on my morning dog walk, that I almost convinced myself that my beloved mantra 'Solvitur ambulando' was pure hokum.
Instead of solving anything, each step only served to dig me deeper into the mental hole I was bitterly excavating. 
Had I confessed my mood to Bex Band when we caught up later that day, I suspect she would say I'd not walked far enough. As she relates in Three Stripes South, it took her a good proportion of the two months she spent trekking the 1000 mile Israel National Trail to discover the headspace she was seeking. 
At first, she found it a struggle dealing with the basic needs of trail life. However, with time Bex adjusted to its simple daily demands:
"I became comfortable with being uncomfortable, and that freed my mind, which was now as vast as the space around me."
Imagine what can happen when your consciousness expands to fill such an epic unknown? The possibility that provides? The potential it unleashes?
Well, I can tell you what it unleashes; it lets loose the whirlwind force of nature that is Bex Band: full-on irrepressible, irresistible, inspirational.
Within 10 minutes of our catching up that blue day, she had snapped me out of my sorrows, filling my future with possibilities once again. What was meant to be an amiable getting-to-know-you session became the most invigorating hour's coaching I have had in a long time!
Afterwards, it was clear to me that the endless potential of the desert skies still buoyed Bex's indomitable spirit. I'm not surprised she founded the UK's largest community of female adventurers on returning from her trek. I'm only surprised that she's not ruling the country by now! I suspect it would only be a matter of time if she put her mind to it.
I chose a section where Bex reflects on the old adage 'the trail provides'...
Subscribe during October to start with Three Stripes South as your first book.
To hear more from Bex about her adventure and reflections on the outdoor world, join us live in conversation - 8pm Thursday 28th November.