Three things you should know about skiing in Scotland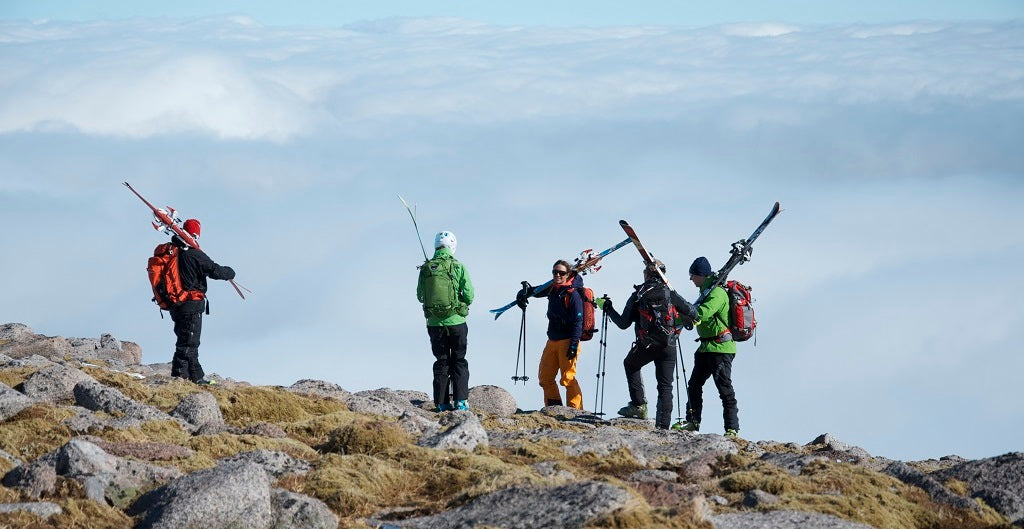 Skiing in the Scottish winter is one of those distinctly British experiences that every adventurer worth their salt should tick off. Writer and adventurer Paul Caddy shares the 3 lessons ticking it off taught him...
Victorian mountaineer Edward Whymper once described his fleeting time on the Matterhorn's summit as, 'one crowded hour of glorious life'. 
He could well have been describing skiing in Scotland: it's never easy but, in the end, it's always worth it.
Scottish skiing doesn't exactly 
have the best of reputations. A recent article from US-based Outdoor magazine, 
when describing Scottish off-piste, confirmed its 
notoriety
when it declared in its heading
, '
Braveheart Couldn't Handle This
'.
There's no doubt that the 
Highland winter offers the full
 tasting menu of challenging conditions: blizzards and bogs, hail and heather, drizzle and despair.
Often you'll be able to sample
 the whole lot in one day.
As for snow, this can all too often be an afterthought on these northern slopes, as if a restaurant kitchen forgot to turn on its main fridge the day before a wedding party arrives: w
ater leaks everywhere, the main course is a warm, soggy mess while everyone mopes around deeply disappointed.
And then…
And then, from time to precious time, the jet stream scoops south from its normal winter path and high pressure squats over the mountains of northern Britain. The sun returns, the land exhales for a few days and snow caps the highest peaks.
This is where you drop everything (work commitments, lifetime partners, whatever you have in your hands at that moment), grab your skis, and bag your crowded hour, or even two, of Whymper's 'glorious life' on the Bens of the Scottish Highlands.
Last season I did just that, joining up with two friends in Aviemore, having booked a ski touring course at the national outdoor training centre, Glenmore Lodge, some months earlier.
By sheer good fortune, the weather had been sublime the week before we arrived. Our instructors sported recently acquired (and uncommonly deep) tans. Broad smiles were etched on their faces.
'You should have been here last week,' was the constant refrain. 'Conditions were like the Alps: wall-to-wall sunshine and powder snow.'
And yet on our first day, there wasn't exactly much evidence of this Alpine playground.
Instead, we were presented with a grey duvet of cloud and an appreciable lack of snow. What white stuff there was looked forlorn and lay exhausted in ever-shrinking patches dotted around the hillside. In the battle of the seasons, winter was in full retreat. Much of it had fled in haste. 
Undaunted, we clicked our touring boots into walk mode, tethered our skis to our rucksacks and headed into the Coire na Ciste valley under the sad eye of a disused chairlift.
First lesson of Scottish skiing: be optimistic.
We hiked for a bit and, upon hitting the scrappy snow line, put on our skis and headed up.
After several hundred metres of ascent, latterly in thick fog, we neared another noisy but unseen lift. At this point, the mists started to lift and grey slowly morphed into blue above us. The rocky Cairngorm plateau poked out of the sea of cloud.
We walked up the final hundred metres or so of the Cairn Gorm summit with our skis hoisted onto our shoulders.
In the near distance, under a cloudless sky, stood Scotland's second highest mountain, Beinn MacDuibh (Ben Macdui). To the southwest, the angry buttresses and ridges of the northeastern face of Ben Nevis tore into the horizon. (Scotland's highest peak looking particularly proud as it had recently celebrated a newly-gifted extra metre of height.)
As for the skiing—the end point of all our efforts—we could see that there was snow to play with; not that much, but enough. 
Whilst much of it had been scoured off the mountaintop by the wind, there was a good couple hundred metres of snow which lay on Cairn Gorm's eastern flanks in the direction of a frozen Loch Avon.
My first ever descent on Scottish snow beckoned. Finally, I'd be skiing in the British Isles. Skiing at home. 
And how unexpectedly magnificent it was!
Second lesson of Scottish skiing: be grateful.
To be fair, we knew powder snow wouldn't be on the cards. It hadn't snowed for well over a week. It would be like asking for a vintage bottle of 1921 Dom Pérignon champagne in a Blackpool bingo hall.
Our expectations were never that unrealistic.
But the conditions were wonderful all the same. The snow had a sublime Goldilocks quality to it: not too firm; not too soft; but just right. The strong spring sun had done its duty.
The edges of our skis sliced through the snowy mountainside at exactly the right time: any earlier in the day and the slope would've been an ice rink, any later and it would've been a festival of slush. What's more, it was untouched, fresh and, most importantly, all ours.
We carved down the hill with silly grins on our faces; the sun, snow and invisible pull of gravity the only friends invited to our private party.
At the bottom of the run, my friend Jo, fizzed with delight: 'That snow was amaaaazing', following immediately by, 'Can we do it again?'
And so we did.
It was just as good the second time around.
Eventually, we headed down. 
Two days later, after a day skiing through snow patches on Creag An Leth-Choin (or Lurcher's Crag) we were ready to do our first independent snow tour.
Third lesson of Scottish skiing: be prepared.
On reflection, we decided to head to a quieter part of the national park and chose an approach from the wild Glen Feshie valley to Carn Ban Mor, with a view, ultimately, to head to Monadh Mor.
The weather was spring-like in the valley but after a two hour hike up we'd hit a wall of driving rain, howling wind and poor visibility. Even worse, the snow was almost non-existent.
We were spending more time with our map and compass than on our skis.
What was the point?
We did what every good mountaineer should always do and turned back half way there, when we were just off the summit of Carn Ban Mor.
That's the thing with Scottish skiing: being prepared to give up when needs must.
It might not be easy, but it opens the door to more joyful and fulfilling life experiences, like visiting a pub and having a wee dram or two (or a 'big, peaty slap in the face' in the words of the Laphroaig ad) and then a steaming plate of haggis, neeps and tatties.
With the snow now
 starting to fall and newspapers predicting a colder than normal winter*, there's no better time to start planning for a Scottish adventure. It might be the best snow you ever 
experience
. It might be the worst. But it'll never be boring...
Sláinte!
*OK, they do this every year. But—hey!—one year they're gonna get it right...