The foraging photography fiasco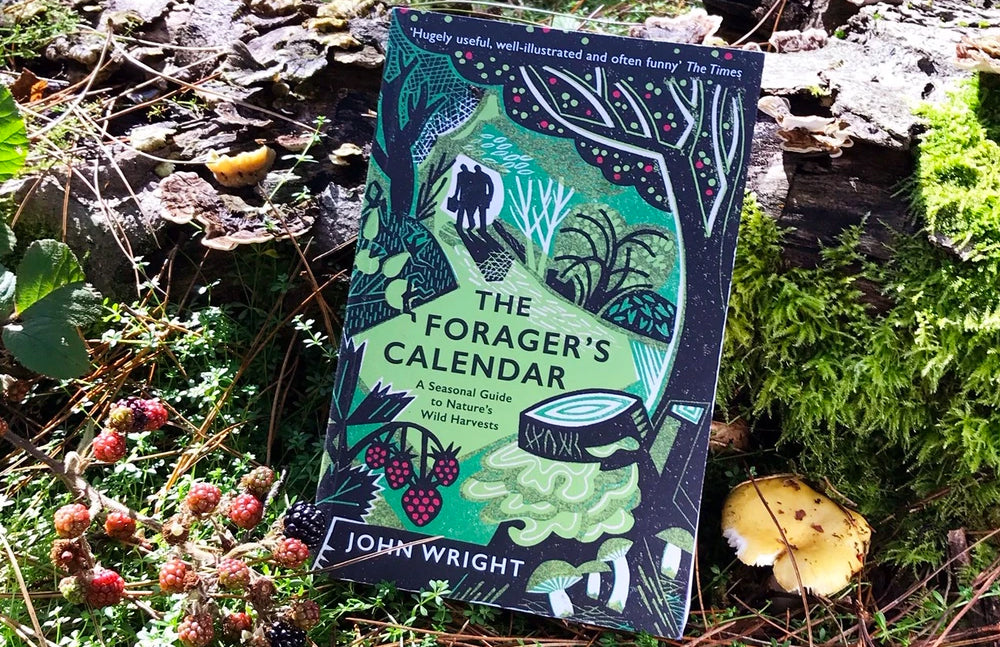 Our founder Tim uses each month's Ink as an excuse for a micro-adventure, heading out into the wilds to photograph the cover. It nearly went badly wrong with our September issue 'The Foragers Calendar'
___
It was the last day of the school holidays, the day before September's Ink went public, and I still hadn't had chance to shoot the book cover in the wilds. Oddly, this book had only been available to preview in digital version, so like everyone else I'd had to wait until physical copies landed with our distributor to get my hands on a hard copy.
Proofing it digitally had afforded plenty of opportunity to warm to author John's amusing style, such as his pithy warning about the fatal consequences of eating a Death Cap "You will regret it if you do. But not for long".
However it hadn't afforded me the time I'd have liked to get to grips with the contents.
So there I was, in the local woods, having whisked my youngest away to occupy her final day of 6 month's confinement, not really knowing what I was looking for. Other than a good picture.
Had I been foraging for my tea, it would have been a different matter. But right now, I just needed to get some decent shots in the bag, and head home before my eldest returned from school. So little Squidge and I tramped our way through the brambles and pine needles on the hunt for interesting looking mushrooms, with a good backdrop.
You can probably guess what happened next?
Luckily, I had two things in my favour. Firstly, I didn't pick or try and eat any of these, and secondly, I had the author of this month's Ink, John Wright, on hand to run my amateur mycologistry by before exposing any of you to the dogiest of marketing messages.
Thankfully he was quick to reply, and kind in his humour.
Back to the drawing board, I decided to do things properly, rearragning my to-do list to make time the following day, and spending the evening poring over the September chapter of the Forager's Calendar.
With the benefit of time, I soon identified a distinctive edible mushroom that I was pretty sure I'd seen on my initial outing: the Yellow Swamp Brittlegill. I took comfort that it's preferred habitat, boggy Birch woods, matched with some spots I knew.
The following day I took my hairy knees out for a proper foraging session, so confident in my newfound ability that I even took a cloth bag for bringing home my haul.
What followed was without doubt the most pleasantly absorbing way of shredding your shins I ever experienced.
Despite the fact that most of my walks are punctuated by some aspect of nature appreciation, I found foraging proved a totally different way to slow down and properly understand a place. I hesitate to use the 'm' word, but it was certainly a great way to notice more, much more than I'd taken the time to in the past. And I consider myself to be a pretty serious Flaneur!
There was of course the added thrill of not poisoning myself, or the family!
It didn't take long for my newly knowledgeable and confident eye to find the first likely specimen, nestled next to a fallen Birch.
I got the shot! And the shroom for good measure.
Once I'd got the hang of the habitat, I found myself loping from one clump of boggy Birch to the next, with the exaggerated stride of an arctic explorer as I ploughed through drifts of brambles desperately trying not to increase the blood loss from my legs.
I must confess that the anticipation got the best of me, and I soon forgot my original photography mission as I excitedly scoured the base of numerous tree trunks, discovering more and more of my quarry. John cautions that this variety are a favourite of slugs, so the discovery of fresh caps emerging unscathed from the leaf mould was the cause of many a silent celebration.
So absorbed in my task was I that I only just made it back in time to collect Number 2 from her first day at school.
Once back home, I sent my fresh crop of photo's over to John for approval, and did my own internet research as his book suggests. This revealed that the worst I should expect from a misidentification was a slightly bitter Common Yellow Brittlegill, a couple of which John soon identified amongst my haul.
And yes reader, I ate them.
Other than a very tasty tea, my takeaways from these forays were firstly, that I'd discovered a great new excuse for getting lost in the woods. And second that it definately pays the novice mycoligist to choose a variety they are confident identifying (John also recommends the Hedgehog Mushroom for it's distinctive spiked gills) and dilligently seeking those out. I would definately recommend you avoid the Russian Roulette pick 'n' mix approach of my first outing!
I know it won't be long before I'm back out with my blackberry stained bible seeking some fresh morsels for tea.
__
John is on hand throughout September to help novice foragers identify their own finds. Just take a couple of photo's of the cap and gills/stem, and tag us in on our social channels or email tim@gatheroutdoors.co.uk. We'll get back to you asap with a reassuring, or cautionary, identification.
John will be joining Tim on Facebook and Youtube for a live interactive interview at 8pm on Friday 25th September, providing you the ideal opportunity to pose your own questions.
Subscribe to Adventurous Ink during September to recieve The Forager's Calendar as your first issue.